ANLÆG OG HØJTTALERE
SURROUND SYSTEMER
SURROUND KOMPONENTER
SURROUND HØJTTALER SYSTEMER
LYDKILDER OG HI-FI TILBEHØR
LYD TILBEHØR
GAVE IDEER
RENTEFRI FINANSIERING LÅN f.eks. 3.474 DKK
Ydelse over 23 mdr. fra KUN 199 DKK
REPRÆSENTATIVT EKSEMPEL: Samlet kreditbeløb: 40.000 DKK • Tilbagebetalingstid: 23 mdr • Månedlig ydelse: 1.946 DKK
Debitorrente 0,0% (variabel i lånets løbetid), ÅOP: 12,1% • Samlede kreditomkostninger 4.758 DKK • Tilbagebetalingsbeløb 44.758 DKK
Fortrydelsesret: Ifølge kreditaftalelovens §19 kan du indenfor 14 dage fortryde den indgåede kreditaftale. Fristen regnes fra den dag, du underskriver kreditaftalen og har modtaget de oplysninger, du har krav på ifølge Kreditaftaleloven.
Onkyo har gjort betingelserne for deltagelse i deres Dolby ATMOS højttalerkampagne endnu nemmere - Voucher er nu også tilgængelig for download: Experience Dolby ATMOS at home

Onkyo TX-NR636 er Prisklassens mest atraktive surround receiver med en effekt på 7x 90W i 8 Ohm, som godt kan puste liv i et par fornuftige gulvhøjttalere.

Producentens beskrivelse:
The Onkyo TX-NR636 wins prime position on your gear rack for three reasons. Firstly, it's one of the only A/V receivers to support future Ultra HD movie streaming as well as 4K gaming at 60 fps with 4K/60 Hz-compatible HDMI® inputs and HDCP 2.2 copy-protection compatibility. Qdeo™ upscaling technology also converts low-res DVDs and games into pin-sharp Full HD or 4K (if you have an Ultra HD display). Secondly, it sounds incredible, with Three-Stage Inverted Darlington Circuitry on the front and center channels for all-enveloping surround sound and musical two-channel audio. Thirdly, it's extremely easy to use, with inbuilt Wi-Fi® for universal hi-res streaming from PC, NAS, and smartphone. You can select from a wild variety of music streaming services and locate your network-attached libraries using the remote app, or stream almost any audio via Bluetooth. Overlaid menus with InstaPrevue™ technology make loading content fast and simple. Throw in an MM phono stage, room equalization, and powered Zone 2 and you've got a value-packed 7.2-channel powerhouse ready for the next wave of high-resolution entertainment.

Onkyo TX-NR636 features:
• Supports HDCP 2.2 for 4K Streaming and TV
• Wi-Fi® and Bluetooth Inside
• Stream Direct from Smartphone and Tablet
• Stream Your Network-Attached Hi-res Audio Libraries via Remote App
• AccuEQ Room Calibration

Advanced features:
• HDMI 2.0 complient with support for 4K/60 Hz Ultra HD Entertainment (4K/60 Hz video is supported on HDMI inputs 1/2/3/4, the frontside input, Main Out, and Sub Out)
• Supports HDCP 2.2 for Future 4K/Full HD Video Streaming and Broadcast (HDCP 2.2 is supported on HDMI Input 3 and Main Out only)
• Built-in Wi-Fi® Certified Wireless LAN Capability
• Bluetooth Version 2.1 + EDR Capability (Compatible Profile: A2DP v1.2, AVRCP v1.3) with Advanced Music Optimizer DSP Technology
• Three-Stage Inverted Darlington Circuitry for Front and Center Channels
• HDMI® Video Upscaling to 4K with Qdeo™ Processing Technology by Marvell
• Internet Radio and Music Streaming Subscription Services Included (TuneIn Radio, Pandora®, Spotify, AUPEO!, and Deezer) (Availability of services depends on region. Some services may require a paid subscription and firmware update. Availability of third-party services advertised here is accurate at the time of publication, but may be subject to change without notice.)
• Playback Compressed, Lossless, and Hi-res Audio via Local Network: MP3, WMA, WMA Lossless, FLAC, WAV, Ogg Vorbis, AAC, Apple Lossless, DSD 5.6 MHz, Dolby® TrueHD and LPCM (LPCM is supported via DLNA only)
• Proprietary AccuEQ Room Calibration with Mic Included
• Dolby® Pro Logic® IIz Upmixing for Seven-Channel Surround Sound
• Advanced Music Optimizer to Improve Compressed Digital Audio Quality (Bluetooth Included)
• Control and Stream with Free Onkyo Remote Streaming Apps for iPod touch/iPhone (Compatible with iPod touch (3rd generation or later) and iPhone 3GS or later. All models require iOS 4.2 or later.) and Android Devices (Requires Android OS 2.1 or later)
• Frontside MHL™ for 1080p Video and Stills from Smartphone and Tablet
• Input Source Preview with InstaPrevue™ Technology
• PM Bass Boost for Deep Bass and Clear Mid-Range
• Powered Zone 2 and Zone 2 Line-Out for Distributed Audio Playback in Another Room
• Bi-Amping Capability for Front Channels

Amplifier features:
• 160 W/Ch (6 Ohm, 1 kHz, 1% THD, 1 Channel Driven, IEC); 175 W/Ch (6 Ohm, 1 kHz, 1 Channel Driven, JEITA)
• WRAT (Wide Range Amplifier Technology)
• H.C.P.S. (High Current Power Supply) Massive High Power Transformer
• Discrete Output Stage Circuitry
• Optimum Gain Volume Circuitry
• PLL (Phase Locked Loop) Jitter-Cleaning Circuit Technology for S/PDIF Audio

Processing features:
• HDMI Support for 4K/60 Hz, 3D, Audio Return Channel, DeepColor™, x.v.Color™, LipSync, Dolby® TrueHD, DTS-HD Master Audio™, DVD-Audio, Super Audio CD, Multichannel PCM, and CEC
• Dolby® TrueHD and DTS-HD Master Audio™ Decoding
• TI Burr-Brown 192 kHz/24-Bit DAC (8 Channels x 1)
• Dual 32-Bit Digital Signal Processing Engines
• 4 DSP Modes for Gaming: Rock, Sports, Action, and RPG
• Theater-Dimensional Virtual Surround Function
• CinemaFILTER™
• Direct Mode
• Pure Audio Mode
• Double Bass Function
• Non-Scaling Configuration
• A-Form Listening Mode Memory

Connection features:
• 7 HDMI Inputs (1 Front/6 Rear) and 2 Outputs
• USB Port (Front)
• Mass Storage Class USB Memory Playback Capability
• HDTV-Capable (720p/1080i) Component Video Switching (1 Input and 1 Output)
• 3 Composite Video Inputs and 1 Output
• 3 Digital Audio Inputs (1 Optical and 2 Coaxial)
• 6 Analog Audio Inputs
• Phono Input for Turntable Connection
• 2 Parallel Subwoofer Pre-Outs
• Color-Coded, Banana Plug-Compatible Speaker Posts

Other features:
• Crossover Adjustment for Each Channel (40/50/60/70/80/90/100/120/150/200 Hz)
• A/V Sync Control (Up to 400 ms in 10 ms Steps at 48 kHz)
• Graphical Overlaid On-Screen Display (OSD) via HDMI with Quick Set-Up and Home Menu
• Hybrid Standby Function with HDMI Passthrough
• Smart Grid-Ready
• Tone Control (Bass/Treble) for Front L/R Channels
• 3-Mode Display Dimmer (Normal/Dim/Dimmer)
• RDS (PS/RT/PTY/TP) (European Model Only)
• 40 FM/AM Random Presets
• Certified with DLNA Version 1.5
• Firmware Updates via Ethernet and USB
• RIHD (Remote Interactive Over HDMI) for System Control
• Compatible with RI Dock for iPod/iPhone and AirPlay (DS-A5)
• Preprogrammed RI (Remote Interactive) Remote Control

Vælg produkt type/variant du ønsker at lægge i kurven
Vare nr. og produkt detaljer
Lager
Pris og bestilling
ON-TXNR636-B: Onkyo TX-NR636 netværks surround receiver, sort Tilbud! (4.489,00 DKK)
ON-TXNR636-S: Onkyo TX-NR636 netværks surround receiver, sølv Tilbud! (4.489,00 DKK)

Det første skridt mod rendyrket audio hos Onkyo, fører os helt tilbage til september 1946, hvor firmaet blev grundlagt under navnet "Osaka Denki ONKYO K.K" og startede med at producere pick-ups til pladespillere, der næsten kostede en hel månedsløn for en japaner på det tidspunkt.

Gennem den tidlige fase af Onkyos historie, var produkterne hurtigt med til at gøre Onkyo til et anerkendt brand, både med audio, højttalere og komponenter. Op gennem 70'erne fik Onkyo opbygget et rigtigt godt renommé, og i 80'erne omhandlede Onkyos produktprogram båndoptagere, M-serie forstærkere, pladespillere, CD-afspiller og tunere. Den første CD-afspiller fra Onkyo kom på gaden i 1981 og verdens første 6-disc changer sender Onkyo på markedet i 1992. Allerede i 1993 sender Onkyo verdens første THX certificerede A/V-receiver på markedet, og igen er de på banen i 1996, hvor verdens første THX 5.1 receiver kommer på gaden. I den digitale tidsalder er Onkyo også med helt fremme blandt pionererne når det kommer til den nye teknik, bla. er Onkyo's surround receivere de første med HDMI 1.4 og derved muliggør 3D video signal understøttelse gennem receiveren via HDMI.

Hele vejen igennem har Onkyo været med på noderne fra den spæde start. Deres dybe grundviden samt anciennitet ses og høres tydeligt på de produkter, der findes på markedet i dag.
| | | | | |
| --- | --- | --- | --- | --- |
| | Internet produkt | PRIS-MATCH på Onkyo | FRI fragt på Onkyo | |
Fragt og gebyr estimat
Fragten beregnes løbende, når der lægges varer i kurven.
Fordele hos AV-Connection
| | |
| --- | --- |
| | Stort udvalg - Lave priser |
| | Fri fragt på mange varer |
| | Dag-til-dag levering |
| | Prismatch på mange mærker |
| | Seriøs service og support |
| | Dankort GEBYR-FRI zone |
Salg og support
Man - Torsdag kl. 9:00 - 17:00
Fredag kl. 9:00 - 16:00
Tlf. nr. 7442 1078
E-mail: info@av-connection.dk
Bestillingsfrister
Mandag - Torsdag kl. 16:30
Fredag kl. 15:30

Ordrer udelukkende med lagervarer sendes normalt samme hverdag.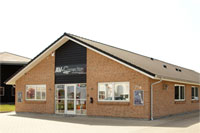 Radio/TV, Hi-Fi og hjemmebio
AV-Connection i Sønderborg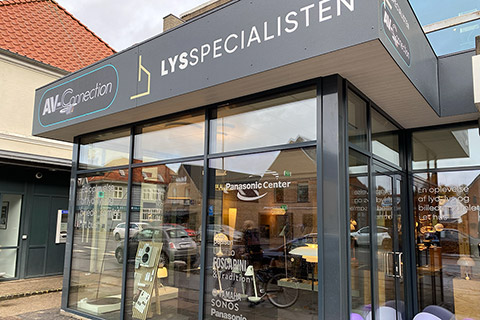 AV-Connection Odense - Radio og TV forretning med speciale i Hi-Fi og surround